Stripey the Caterpillar
Written by Katie George
Illustrated by Katie George
Reviewed by Ariel M. (age 5)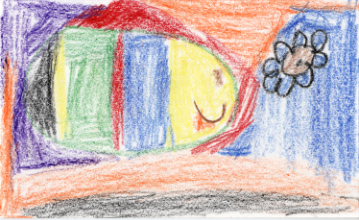 Stripey was feeling a bit sick. He slept on the grass. First he tried a yellow and white flower. He slept on a red flower. Then he tried a big blue flower. He went to a yellow flower. He next found some white flowers. But he still felt a bit sick. He took a nap and you?ll have to read the book to find out what happened next!
I liked this book! I like the part when he crawled onto all the flowers. The illustrations were pretty because they had all kinds of flowers. I liked how Stripey tried to sleep in the flowers because I would to try and sleep in the flowers. The only part I didn?t like was how he waited until the end to take a nap.
I would recommend this book to all my friends and to my best friend Melanie because she likes everything I like and particularly butterflies. My brother?s teacher would also like this book because it has pretty pictures of flowers.