Benjamin Franklin
Written by Jack Kelly
Illustrated by Ortiz Tafalla
Reviewed by Alex F. (age 9)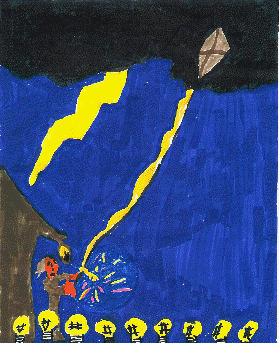 This biography is about Benjamin Franklin, and how he started out as an apprentice as a printer at the New England Courant and soon he had his own business. At the printing press he learned lessons from his past for making inventions in the future. Once you read one page you will be amazed by the detail and the way it's so easy to understand all about his life from this biography.
I like the book because the descriptive writing was so good and the way you can understand Ben Franklin's life throughout the years.
For characters I liked Ben, John Collins (Ben's friend) and Ben's mom and dad because they were nice. They were not mean like James, (Ben's older brother) who bossed him around a lot.
My favorite part was when Ben tried to kill a turkey with electricity and knocked himself out for a few hours. I think Ben learned a good lesson from that experiment.
I strongly recommend this book for people seven and up. If you're a fan of Benjamin Franklin, this is the best.