Matilda
Written by Roald Dahl
Reviewed by Brittany M. (age 9)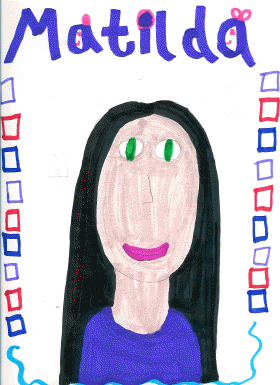 Matilda is about a girl who has two mean parents. She has so much fun driving them nuts, but at school its a whole different story. The headmistress, Miss Trunchbull, is a 100% kid hating monster! But, she is no match for Matilda!
Matilda is very intelligent. She knew how to spell words like Vermont, and radio and knew how to multiply numbers like 4,720 times 5, 672 in kindergarten! Matilda is a nice girl with a friend named Lavender. Matilda and Lavender have big plans for the Trunchbull. You read the book and wait and see what happens!
This book made me think, how could Matilda be so smart? It made me think how Matilda is so lucky to be so smart like when she made the Trunchbull faint, and how she had special powers.
I found Lavender a very interesting character. She wanted revenge on the Trunchbull so she put a newt in her water.
I really love the book Matilda. I like the story and all the detail the author and illustrator put into it.
I recommend this book for children ages 6-15. Kids like humor and sneaky behavior, and enjoy funny stories would enjoy reading Matilda. It is enjoyable to read or have someone read it to you.