Skinny Bones
Written by Barbara Park
Reviewed by Ross B. (age 9)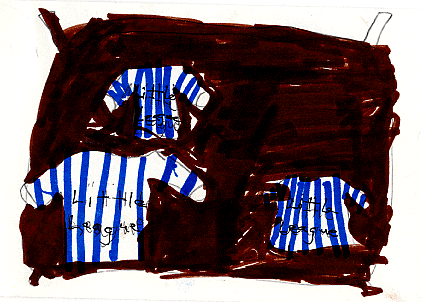 There was a boy named Alex who liked to be funny. He was small also. One time when he was a kindergartener, his teacher said to cut out a picture that would look like them when they were grown up. He picked the Lucky Charms leprechaun. One time, when he was in fifth grade T.J. Stoner and Alex had a pitching contest. T.J. Stoner went first. He threw ten strikes. When it was Alex's turn, he threw ten balls. Every year at baseball, he gets The Most Improved Player.
I think the book is cool. It was interesting and good. I really liked the character, Alex. It made me laugh when he said, "I want to go home and die." There were parts in the book that made me very curious. I was curious about when he was in the pitching contest and if he would win it or not. That made me keep wanting to read.
I recommend this book. I wish other kids would read this because it has a lot of comedy. I think kids should be ten or older to read it because it has a lot of pages in a chapter.