Come Back Amelia Bedelia
Written by Peggy Parish
Illustrated by Wallace Tripp
Reviewed by Brendan K. (age 6) & Jacob G. (age 8)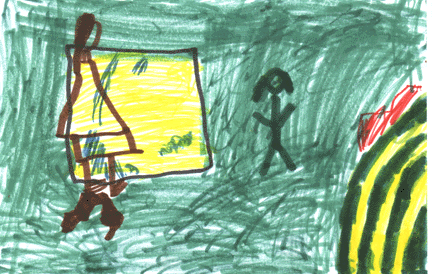 "Oh my cream puffs"; Amelia Bedelia gets fired from her job as a housekeeper. She messed-up one more time and got fired for putting coffee in the cereal. Now she has to look for a new job. She finds a beauty shop with help wanted sign on the window. When Amelia Bedelia went in she was instructed to pin someone?s hair but...she did it with safety pins. Then she?s on her way again.
While she was looking around again she sees another help wanted sign. She goes in and says I?m here to help you. She was instructed to shorten some dresses but unfortunately she cuts them and doesn?t hem them. Will Amelia Bedelia ever get a place to stay? Find out in this hilarious story Come Back, Amelia Bedelia.
I (Brendan) like the pictures because they have lots of brilliant color. I (Jacob) like the part when Amelia Bedelia stamps on letters.
We think you should read this book, because if you like books with a writer that mixes up the writing you?ll like to read it. We also think you should read this book because if you like Junie B. Jones?s funny language you?ll like this book.