Mountain Bike Mania
Written by Matt Christopher
Reviewed by Tyler M. (age 11)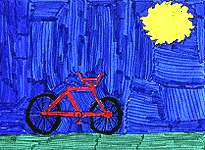 Do you like to ride mountain bikes or read about them? Well if you do this is the book for you. This book is about a boy who has nothing to do after school besides pig out on junk food and watch cartoons until his mom gets home. So one day his parents and he discuss about after school clubs and they decide that he would go out for mountain biking. But Will found out that they only meet on Monday, Wednesday and Friday so on Tuesdays and Thursdays he has to go to the library and he does his homework and reads. He starts to make friends and become popular but he makes one friend in particular, Ace Diamond. Ace Diamond is a person who you would not want to disagree with and he also rides on hiking trails and does not care about anything, so people start protesting on mountain biking. Whoa, I better stop or I will tell you the whole story.
There are about two things you can learn from this book. One thing you will learn is to pick the right friends in life. To find the other lesson you have got to read the book.
My opinion is that it was a good book because I like bikes and sports. My favorite part was when Will stood up for his best friend right when Ace was going to kick Will?s friend?s butt. One person that changed in this story was Ace because at first he was nice then at the end he becomes mean. When I was reading this book it made me think that Ace was really mean and going to hurt Will or someone else in the club.
I recommend that you read this book but only if you like mountain bikes or sports or you can read it for fun. In this book I think you will like Will and their club leader. Well , if you read it I hope you will like it.