Sugar Isn't Everything
Written by Willo Davis Roberts
Reviewed by Abbie S. (age 11)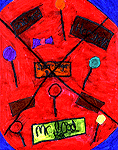 Sugar Isn?t Everything is about a girl named Amy. She has one sister and one brother. She is a normal 12 year old girl until she notices she has been eating and going to the bathroom a lot lately. After a few nights passed she got so hungry that she even had to get up and sneak a few brownies. Then one day she was going to the bathroom because she felt sick. So she went to the bathroom and threw up and then she fainted. Her mom was not home so her brother ran upstairs and saw her lying on the floor. He ran down stairs and called an ambulance. When they got there her big brother picked her up and brought her to the ambulance. Now it is your turn to get this book and read it to see what happens to Amy.
I like this book because it is interesting and reminds me of a girl I know. I also like this book because it is funny in some parts. Amy is a very interesting and funny girl.
I think girls would like this book because it is about a girl. And that?s why you should read this book.