Bud, Not Buddy
Written by Christopher Curtis
Reviewed by Tausha G. (age 11)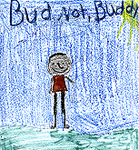 I liked to read Bud, Not Buddy because it is an awesome book. Bud?s mom dies from disease so he had to live in a home for 4 or 5 years. He ran away because he got locked in a shed. So he got out. He thinks this picture in his bag is his father and tries to find him.
This book is somewhat sad and mysterious. My favorite character is Bud because he likes to have fun and go on adventures. The best part in this book is when he went to find his father.
I hope you will read this this book sometime because it is awesome!!!