Charlotte's Web
Written by E.B. White
Illustrated by Garth Williams
Reviewed by Dylan M. (age 9)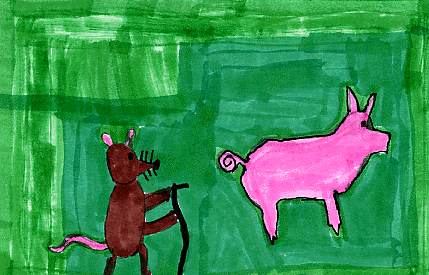 This book is about a pig named Wilbur. It is about a spider named Charlotte, too. They become very good friends. They were always together. Wilbur always watched Charlotte. Charlotte alway watched Wilbur. That proves they were friends. The main characters are Fern, Wilbur, and Charlotte. This book is mainly about friendship. The reason is Wilbur saved Charlotte and Charlotte saved Wilbur. To see how, find out in book.
Well for me, I think this book was boring. There were some parts I did not expect and I did not like them. Like when Wilbur got out of the fence, it sounded like he didn't know what he was doing. I watched the movie first before I read the book. I think I would have liked the book if I had read it before I watched the movie. Otherwise I would have had more fun and more laughs too.
I recommend that you read this book. It's very funny in parts of the book. You should be at least a fourth grader and up to read this book yourself.