Charlotte's Web
Written by E.B. White
Illustrated by Garth Williams
Reviewed by Quinn P. (age 9)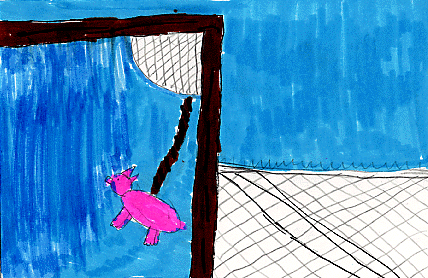 This story is about a runt. Fern saved his life. She named it Wilbur. She cared for it like a baby. She even put Wilbur in a stroller. Unortunately Wilbur gets taken away. He makes friends with a gray spider named Charlotte. She saves his life by writing things in her webs. He becomes Zuckermans Famous Pig. He takes care of her babies in the end.
I thought this story was okay. Maybe other kids would like it. If I had a choice to read something, it probably wouldn't be this story. I'm not saying I absolutely hated it. I just really didn't think the story was that good. I didn't like the plot. Maybe it was because of the animals talking. I liked some parts, like the when "the geese cheered". I laughed whenever they said that, and they said that quite a bit.
I think other kids should read this book. Nobody is the same person as me. They might like it, they may not. I recomend this book for 4-5 grade kids. They could read it. Some of the vocabulary is hard.