Superfudge
Written by Judy Blume
Reviewed by Skye D. (age 9)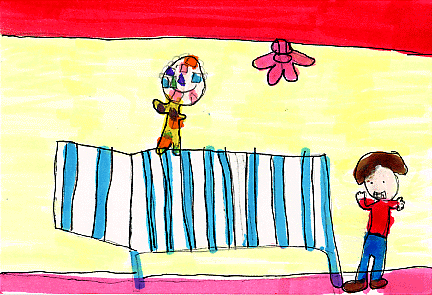 "Superfudge" is a sequel to "Tales of a Fourth Grade Nothing". They are both about Peter and Fudge Hatcher who are brothers. In this book, the Hatcher family is having a new baby named Tootsie and they are moving to Princeton. Fudge does bad things like he covered Tootsie in stamps. He rode off with his friend Daniel and got lost. Peter does not want to move away because he'll miss his friends, especially Jimmy Fargo. Then he tries to run away. His parents told him he couldn't run away every time he doesn't like something.
I think this a really good book because I think Fudge is funny. He always gets into trouble. It was funny when Fudge said "B-E-E-R spells whiskey". Some parts made me laugh, some parts made me curious, like when he spelled whiskey wrong. It makes me wonder what it would be like to have a brother like Fudge.
I think others should read it. It's a really good book so they could find out more about Peter and Fudge. I think people in fourth grade and up could read it independently.