Falcon's Egg
Written by Luli Gray
Reviewed by John A. (age 9)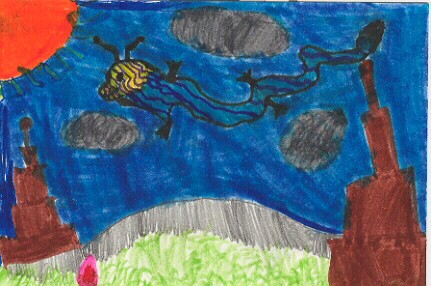 This is a story about a girl named Falcon and an egg she finds that hatches into something extraordinary. She takes it to Ardene, her friend, and they agree to take it to an ornithologist. Freddy, the ornithologist is very puzzled. The egg is extremely hot. Then they show it to Aunt Emily; suddenly it wiggles, then hatches into a beautiful dragon! Falcon takes it to the greenhouse above her apartment. The dragon takes short flights and his body gets hotter and hotter. It causes Falcon many troubles such as, the dragon kills the greenhouse duck and eats it in one bite. Falcon becomes a better person because of the dragon.
Falcon's Egg was very interesting because the plot was unpredictable and funny at times. It wasn't my favorite book but it was O.K. It was also easy to read. Freddy was my favorite character because he was fool hearted and confused. My favorite part of the book was when Aunt Emily tells a story about dragons.
I think that people who like stories with mystical creatures and a good storyline would like Falcon's Egg. I recommend this book to all kids under ten. I hope you enjoy reading it as much as I did.