Crickwing
Written by Janell Cannon
Illustrated by Janell Cannon
Reviewed by Jasper G. (age 9), Marcello A. (age 7) & Nicole M. (age 9)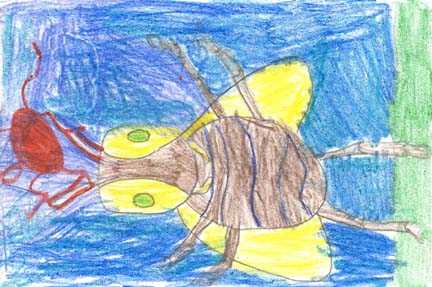 Have you ever wondered what it is like when you try to get away from something, you hurt yourself and people call you names? That's what happened to Crickwing. Now he sleeps in the day and eats at night. The animals tease Crickwing and animals try to eat him and take his food. One day he realized that the ants were punier than he, so Crickwing decided to be a bully and picked on the ants. Crickwing is really not like that. He`s nice but he acted this way because of how the animals treated him. The ants caught him and were going to let the red army ants kill him. Read on to find out what happens to Crickwing next...
Our opinion of this book is that it is an adventure and has lots of excitement. It is so good it should be a movie! It is more than good, it?s great for people who have been teased before. It is a cool and breathtaking book. It is for someone who likes good endings.
We recommend this book to people who like fiction and insect books. We also suggest this book to people who have been bullied or are tempted to bully other people it will teach you to be nice to others. Also we learned that when you are nice to someone they will be nice to you.