Sheep in a Jeep
Written by Nancy Shaw
Illustrated by Margot Apple
Reviewed by CE (age 5)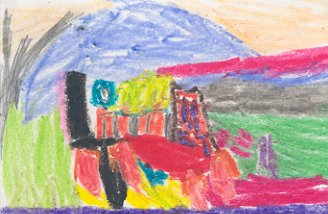 The sheep are driving in their jeep and get stuck. They get out of the jeep and push it. Then, it rolls into the mud. Then the sheep get the pigs to help get the jeep out of the mud. The sheep get help because they want to drive the jeep again. I like the pigs because they help the five sheep get the jeep out of the mud.
The pigs and the sheep worked as a team to get the jeep out of the mud. I like everything about this book. The story was good and so were the pictures. If I were in this story I would like to try and fix the jeep so the sheep would not try to sell it.
Kindergartners who like rhymes and an easy story to read should read this book. I learned that friends should always help each other beacuse they are friends.