Touching Spirit Bear
Written by Ben Mikaelsen
Reviewed by Anna M. (age 10)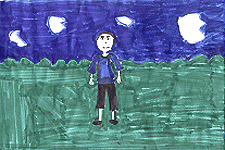 Cole Matthews lives a hard life. With his father always abusing him, Cole thinks he needs to hurt others. He saw the legendary Spirit Bear, threatened to kill it, then got mauled by it. He finally realizes anger doesn?t solve anything after he was sent to an Island and got a lot of time to think about what he did to a younger boy named Peter Driscal for telling on him.
The lesson that this book gives you is that anger only makes everything worse than it really is. That?s what the author is trying to tell you. I like this book because it makes you feel like you were there through all that happened to Cole. My favorite part was at the end when Peter taught Cole how to carve he said a circle was ? all I could teach him to carve.??
I recommend this book to readers that like suspense stories. The action in the story makes it really good. I know you?ll like it.