In the Huddle with Steve Young
Written by Matt Christopher
Reviewed by Brad W. (age 11)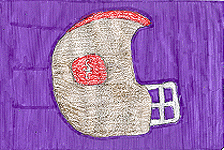 Do you want to hear about a man that won the Super Bowl? His name is Steve Young.
Steve Young?s great-great-great grandfather had a college named after him called Brigham Young University. Steve Young went to college at BYU. He was a backup quarterback for a man by last name of McMahon. When McMahon graduated Steve was starting quarterback. When Steve graduated he played for the Tampa Bay Buccaneers. He was traded to the San Francisco 49ers after the Bucs had a 2 and 14 record. Steve Young was a very good quarterback but he was still a backup for Joe Montana. Later Montana was out with injuries so Steve was in. He took the 49ers to the championship but lost to the Cowboys. The next season Montana was traded to the Kansas City Chiefs and Steve led the team to the championship. This time they beat the Cowboys and earned a trip to the Super Bowl against the San Diego Chargers. From the beginning Steve and the 49ers dominated San Diego. San Francisco held on to win the Super Bowl. Steve Young finally won his first Super Bowl ever, Super Bowl XXIX.
I thought this book was good because the author is a sportswriter. I also enjoyed this book because I like football a lot. My favorite part is Super Bowl XXIX because San Francisco smoked San Diego. Last of all, the unique thing about the book is it is just about one person.
I recommend this book to someone who plans to be a quarterback when they grow up.