The Landry News
Written by Andrew Clements
Illustrated by Salvatore Murocca
Reviewed by Taylor S. (age 11)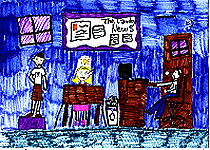 Cara Landry is the new girl in school and her teacher does absolutely nothing except read newspapers and drink coffee. One day Cara decides to make a newspaper like she did at her last school. This time the effect of her newspaper almost caused her teacher to lose his job. Does he lose his job and move to Florida? Does Cara get kicked out of school? Does she ever get any friends?
I loved this book because it was very interesting. The kids in the book are making a school newspaper and I think that woul be cool to do. I think that the moral of this story is if you want to try something new to go ahead and try it even if someone might try to stop you (as long as it?s safe.) The Landry News is one of the best books you could ever read and I'm glad that Andrew Clements is still writing.
This book would be a great book for anyone who wants to be a reporter.