Megan's Island
Written by Willo Davis Roberts
Reviewed by Stacey W. (age 11)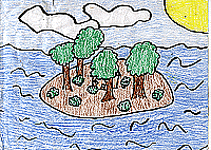 Do you live by an island? Megan does, kind of. Megan and her brother, Sandy, are on their last week of school. After school ends for the year Megan, her best friend Annie, Sandy, and Megan?s mom are going to Megan?s grandpa?s house which is by a lake. What?s the problem? Megan?s mom all of a sudden tells Sandy and Megan to pack up to go to their grandpa?s house early. They couldn?t call anybody or do anything but pack up and go. So what happens? Keep reading.
At the lake, Sandy and Megan find an island. They find a ?cave? and plan to sleep in it. While they are at the lake, their mom says she has to leave but doesn?t tell why or where she was going. This is getting a little scary for Megan now. When she goes looking for some stationery to write Annie, she ends up finding a birth certificate! On the birth certificate was the birthday of this person; it was the same date as hers exactly! The baby?s name was Margaret Koffmen. The parents? names were Caroline and David Koffmen. This was starting to get weird! Margaret-Megan, Margaret-Megan, those names are so alike!! That?s not the only thing that happens to her. People are coming to her grandpa?s house and looking in the windows!! Who could they be??? You will just have to find out for yourself.
I really liked this book because it made you want to keep turning the page. I liked Sandy?s personality because he almost always made light of the situation. This book is not like any of the other books Willo Davis Roberts has written except that some of her books are mysteries like Megan?s Island.
I would recommend this book because it is exciting and suspenseful. Kids who like suspense and mysteries will like this book. Read Megan?s Island.