Love, Ruby Lavender
Written by Deborah Wiles
Reviewed by Katey M. (age 10)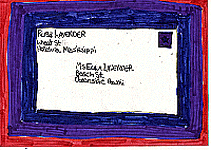 Ruby Lavender and her grandmother (Miss Eula) have always been very close, since Ruby was an only granddaughter. When Ruby?s aunt has a baby girl and Miss Eula goes to visit her, Ruby feels very left out, especially since Miss Eula writes of such good times. It?s really the first time Ruby has dealt with problems (such as the curly-haired Melba Jane, a neighborhood girl) on her own. Miss Eula?s been gone for so long, Ruby begins to wonder if she?ll ever come back. Ruby soon finds that old friends plus new friends equal lots of fun and a crazy time!
I like this book because it lists a common problem (feeling alone or left out) and a good solution (be kind, and they?ll like you. No one likes an unkind person). This is the author?s first book, and I think Deborah Wiles should write several more. Love, Ruby Lavender is an extraordinary book, has a good plot, teaches a lesson and has a taste of silliness to make it more fun than ever.
I recommend this book to anyone who likes books with letters or has a grandmother that is very close to them. Even if you?re not from a small crazy town like Ruby is, you?re sure to love this book!