Heidi
Written by Robert Newell
Reviewed by Katey M. (age 10)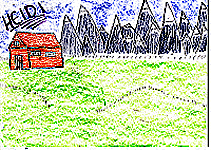 Heidi loves her mountain home, her grandfather (who was called the Alm-Uncle, for he had lived on the mountain for so long), and her friends Peter, his mother Bridget and his grandma, called simply the grandmother. Heide feels as if nothing could take her away. But one day, Heidi?s aunt Dete comes to take her to the to the city of Frankfurt to live with a handicapped girl, Klara. Heidi loves Klara dearly, but misses her mountain home and grandfather and wishes each night to return to them. Housekeeper Fraulein Rottenmeier will hear nothing of it. Heidi begins to wonder if she shall ever return to her home.
My favorite part of this book is when Klara and Heidi give Klara?s father the Christmas present of Klara being able to walk. Heidi and Klara were my favorite characters in this book. They taught me to keep trying and keep smiling. This book made me want to read on and on.
I reccomend this book to everyone. Especially if you like to read about far-away places, you?ll love this book! If you like this book, you may want to read Heidi Grows Up as well.