Lucy's Completely Cool and Totaly True E-Journal
Written by Jane Harrington
Reviewed by Stacey W. (age 11)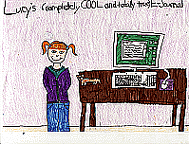 Do you keep a journal? Lucy does. Lucy just got an e-journal. This summer is going to be the worst. How will she make it through summer alive?
You?re probably wondering why it was going to be the worst summer ever. First of all, her grandma, who has Alzheimers, is moving in with then. That would be very frustrating!! Besides that, the biggest bully ever (Billy) is probably moving in next door. Also, she has to go to summer camp!! This summer was really going to be a bad one. If that?s not enough, her parents won?t let her get a pet ferret, even when she doesn?t have any pets! Can you believe it?!? Can Lucy try to keep Billy and his family from moving in and convince her parents to not send her to summer camp and to get her a ferret? Why don?t you read the story and find out!!
I would recommend this book to kids in grades 3-6 because it is a great kid's book. Also I would recommend the book to people that have grandparents who are moving in or have Alzheimers.
I thought that it was very creative that the author made different computer faces at the end of each chapter according to Lucy?s feelings. : - ) or : - (*) or :?- ( I also enjoyed it that the author used a whole bunch of different NET-YAK terms like, N: and, CUL8R: see you later and others. I thought it was great that Lucy learned to have patience with her grandma at the end of the book. I hope you read Lucy?s (completely COOL and totally true) E-Journal!!
TTFN