The Man Who Loved Clowns
Written by June Rae Wood
Reviewed by Shelby N. (age 11)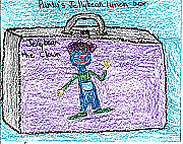 Delrita just wishes the new girl, Avanelle, would leave her alone. Delrita wants to be home with her family taking care of her uncle, Punky. Punky has Down?s syndrome so sometimes people laugh at him for one reason or another. Then something terrible happens that will change Punky and Delrita?s life forever. Delrita is glad that she has the new girl, Avanelle, and her brother Tree for friends. But Avanelle has a secret to hide.
I think the book is wonderful! I just love it because Delrita loves Punky no matter what even if he?s different and other kids laugh at him. It is a lot like another book by June Rae Wood called When Pigs Fly. It?s like this book because both books have a person with a special need. I felt great as I read the book! It made me wonder why someone would be so mean to someone just because they have Down?s syndrome.
I recommend this book because it has one event after another! I think anyone who is looking for a good book to read would like this book. I also think someone who has a family member with Down?s syndrome would like this book. I think the entire book would interest readers!