The Bad Beginning
Written by Lemony Snicket
Illustrated by Brett Helquist
Reviewed by Shane J. (age 11)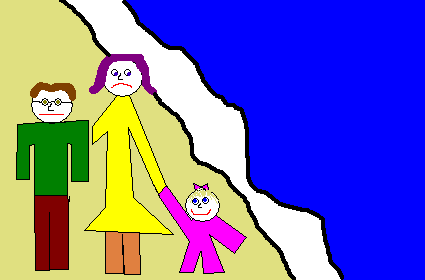 The story begins on a gloomy day. Klaus, Sunny, and Violet decide to get out of their mansion and go for a walk on the beach but it is very foggy. As they walk along the water they see a mysterious figure appears out of the fog it is a close friend of the family. He informs them that there has been a terrible fire at their mansion. Their parents died in the fire and their mansion got destroyed. The three orphans are forced to live with Count Olaf. Count Olaf is a distant cousin of the orphans. Count Olaf is very strange looking. His skin is a greenish blue color. He has really big sideburns and a weird tattoo of an eye on his ankle. His house is full of paintings of eyes he has some obsession for eyes. Well anyway, the orphans experience at Count Olaf's is miserable. They are treated like slaves they have to do all of the house work, and cook dinner! Count Olaf acts pretty strange in the book. There is this play that he wants Violet to be in a play. It is not that she is a good actor it's because Count Olaf has a sneaky plan. You will have to read the book to find out what happens.
I thought the book was really good and suspenseful because you don't really know what happens next. My favorite part of the story was when the orphans just get to Count Olaf's house because it is really suspenseful. My favorite character was Sunny because she is a baby and her teeth are just coming in and she bites everything and anything! She reminded me of my baby cousin because she bites anything also. All of the characters didn't really change through the story. The book is sort of like The Boxcar Children because the boxcar children are orphans also. The book is in a series called The Unfortunate Events.
I think anyone who likes suspenseful stories will like this story. It is a really suspenseful and a fun book to read. I think the suspense would make people want to read the story.