The Grand Escape
Written by Phyllis Reynolds Naylor
Illustrated by Alan Daniel
Reviewed by Blaire T. (age 11)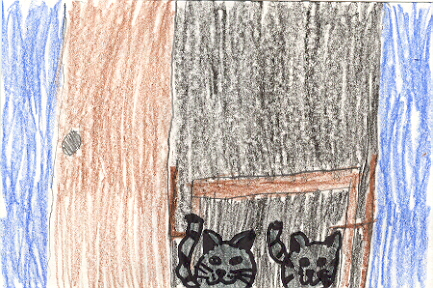 If you had been a house cat all your life, would you suddenly want to go outside? Well Marco and Polo are housecats who do just that. After a life indoors with the Neals, they decide to become outdoor cats. One night they find an open door, and the grand escape begins. Once they are outside, they solve three mysteries, become members of a cat club, and meet two tiny kittens. Want to find out more? Read "The Grand Escape".
I really enjoyed reading this book. I liked it because I like animal stories and adventures. My favorite characters were Marco and Polo. I liked them because it was interesting to see how much they changed when they were outdoors. I found this book similar to books like "Stuart Little" and "The Trumpet Of The Swan" which are books I also liked. I also enjoyed the illustrations. They were very realistic and really showed what was happening without any color.
I recommend this book to anyone who likes adventure and animal stories. I think it is appropriate for all ages. This story is definitely worth reading with your family or even by yourself.