Snakes
Written by John Bonnett Wexo
Reviewed by Tyler G. (age 10)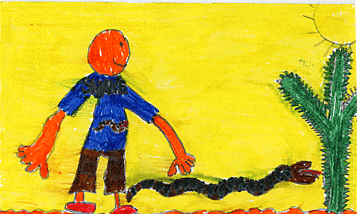 This is a nonfiction book that gives information about snakes and how they can be dangerous. Some interesting facts are that the longest snake grows to 30 feet, and the smallest is only 4 inches long. The heaviest snake can weigh 600 pounds, and the oldest snake known is 47 years old and is in a zoo. Many snakes have beautiful patterns on their skin. There are at least 2700 different kinds of snakes in the world, and only about 400 of those are poisonous. The author gives some information about how to avoid and treat snakebites if they happen.
I think the most interesting parts of this book were the pictures of the jowls of the snake. This book has actual photographs as well as some drawings. I like this book because it is nonfiction and I learned some things to help me when I am hiking in the woods. I have read many other nonfiction books about animals.
I recommend this book for people who are interested in learning about snakes. I think anybody who likes to spend time hiking would enjoy this book. The photographs and information about the dangers of snakes might be very helpful.