Judy Moody
Written by Megan McDonald
Illustrated by Peter Reynolds
Reviewed by Taelor D. (age 10)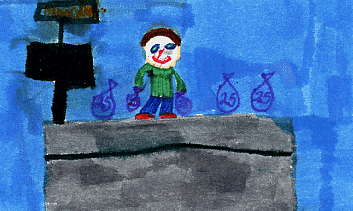 Judy Moody is about a girl who is starting her first day of school. Judy is not happy about going to school so she is in a really bad mood. Her teacher wants them to do a "Me Collage" so they get to know their classmates. Judy sits by a kid who eats paste. At first, she thinks he is strange but then she gets to know him because she finds out why he ate the paste after learning about his "Me Collage" and they become friends. Judy Moody gets to tell more about herself and makes new friends along the way. To find out what she does for her "Me Collage" and the adventures she goes through, read this book. I think the lesson in this book is to not judge people before you get to know them and that is what the author is trying to get you to understand.
I love all of the characters in this book because they are funny and do weird things. At first all of the kids are very shy but at the end they all like each other and feel included. I liked George and Judy the best because I like how they became friends. Judy changed from being moody to being very happy because she made new friends because of the "Me Collage". This is the first book of the Judy Moody series and I think it is the best book I've ever read because it was happy and made me laugh and feel good.
Every girl in the fourth grade should read this book because the reading range is right for our grade and I think girls this age could learn a lot about making friends.