Harry Potter and the Chamber of Secrets
Written by J.K. Rowling
Illustrated by Mary Grandpre
Reviewed by Brittany J. (age 10)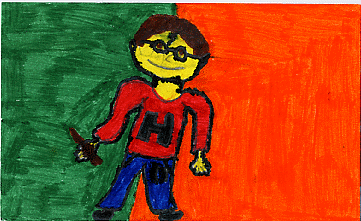 This book is about a boy named Harry Potter. He goes on lots of adventures. At the beginning of the year he goes back to school, which is called Hogwart's School of Witchcraft and Wizardry. Throughout the whole book Harry and his friends, Ron and Hermione, look in books and ask teachers about the Chamber of Secrets. At the end of the year, Harry finds out how to open the Chamber. So Ron, Harry and one of their teachers, Gilderoy Lockhart, went down in the Chamber. They all went a little ways and then everyone but Harry got stuck. But did Harry go on? Then what happened? Read the book to find out! I think this book tells about how friends work together, help each other and care about each other when something goes wrong.
I like this book because of all of the characters in the book because I like witches, wizards, and all the magical stuff. I loved this book as much as I did the first and the third one. My favorite part of the book was when Harry Potter beats the basilisk at the end and saved Ginny too. This book is definitely different from any other books I've read because there is magical stuff throughout the book.
I recommend this book for some people but I don't recommend this book for everyone because not everyone wants to read these kinds of books. If you like to read about mysteries, magical stuff, witches, and wizards, you would like this book a lot. The characters and the descriptions in the story inspire me to read more J.K. Rowling's books.