Hatchet
Written by Gary Paulsen
Reviewed by Cole G. (age 9)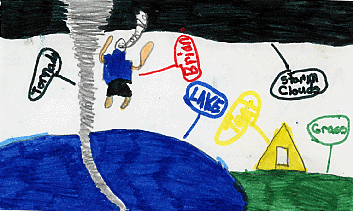 Brian is a 13-year-old boy who is on his way to go to his father's house. On his way to his father's house, the pilot has a heart attack and dies. Brian has to abort the plan and crash into the Canadian Woods where he has to fish, hunt, and find shelter to survive. Brian has to use skill he thought he would never have to use. He is learning how to survive on his own and remembering some things he was taught and how useful they are now. Will his mom or dad find him before the winter breaks out? Read this book to find out.
I thought this book was very neat because I like the wilderness a lot. My favorite part was when the tornado hit. It was also kind of neat because the tornado saved his life because it brought the plane to him which had a survival kit packed inside. Brian reminded me of my cousin and myself because we like the outdoors and we would probably do the same things that Brian did. It also reminds me of my cousin since his parents are going through a divorce too. Brian changed a lot in the story because he learned that he could have fun without having TV and X-Box and that he could have fun doing other stuff. This is sort of like the other books this author writes. It is part of an outdoor adventure series.
I recommend this book to anyone whose mom and dad are divorced because they would share the same feelings as Brian. I also recommend this book to someone who likes adventure and the outdoors because it is set outdoors in the wilderness. This book would be fun for anyone who camps in the wilderness since you could learn how to survive in the outdoors.