A Book of Flying Saucers for You
Written by Franklyn M. Branley
Illustrated by Leonard Kessler
Reviewed by Megan M. (age 7)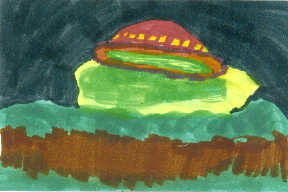 Do you like flying saucers? Well, I have a book for you. There once was a man who went to Palm Beach, Florida. He saw a glow in a swamp. He thought something was burning. When he came back, his arms were burnt. There were three small holes burnt in his cap and the grass that he was standing in was green on top, but the bottom of the grass was black. This was a real mystery.
I really liked this book because the setting was in Florida. This reminded me of the time my family went to Florida for vacation, but I didn't see any UFO's while I was there. The book was also interesting because it had drawings of what different people during different times thought that space aliens looked like.
If you like scary flying saucer stories, be sure to read this book. This is an interesting science fiction book that you would probably like to read if you like UFO's and space aliens. Second and third graders could probably read this book by themselves.