Hope Was Here
Written by John Bauer
Reviewed by Geoffrey M. (age 10)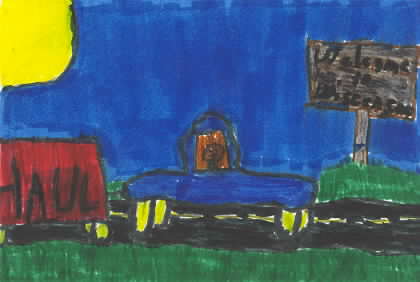 Hope was Here is about a boy named Hope whose father died. His mother left him with his Aunt when he was a baby in New York. He worked with his Aunt at her restaurant, but it had to close down because of taxes. They moved to Wisconsin. Will he like it in Wisconsin? Will he live his dream and finally become a waiter? You can find out by reading this book.
I really liked Hope was Here because it had adventure, excitment, emotion, and travel. I liked the character, Hope. He reminded me of my brother because he hates to move and start all over again. I also liked Hope's Aunt. She likes everything except disappointing her nephew. His Aunt reminds me of my Aunt Trudy because she does not want to disappoint me or my brother. This story reminds me of when my family moved to Utah, then Colorado, and finally moved in with my step dad.
I recommend this book to people who like adventure, excitement, travel, and a little emotion. The people who might like this book are young adults or kids eight years or older. This book is easy to read but has some long words.