Alexander and the Wind-Up Mouse
Written by Leo Lionni
Illustrated by Leo Lionni
Reviewed by Danielle K. (age 7)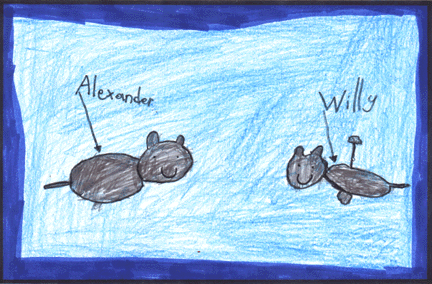 This is a book about a little mouse named Alexander. He lived in a house, in a mouse hole. The people living in the house chased Alexander whenever they saw him. One day when the family was out Alexander came out of the mouse hole. He found a toy mouse. Alexander said, "Who are you?" "I'm Willy", said the toy mouse. Alexander and Willy became friends. Alexander wanted to go downstairs and eat crumbs. But Willy could not. He said he was a wind-up mouse and the only way for him to move was to wind him up. So they chatted instead. Willy told Alexander about a little girl named Annie. Willy slept with her. Everybody loved Willy. Soon Alexander came to love Willy too. One day Alexander asked if he could be a wind-up mouse too. Will he? Find out in Alexander and the Wind-Up Mouse!
I like the book because of the way Leo Lionni describes how Alexander and Willy have so much fun together. I think you should read this book because it's a great thing that Alexander wants to be loved like Willy. This book reminds me about my friend Hannah. She always tells me that she wants my hair. It is like when Alexander wants to be a wind-up mouse like Willy.
Leo Lionni has written other books too. I think you should read those other books like An Extraordinary Egg, Swimmy, Fredrick, and Six Crows because they're all good books too. Alexander and the Wind-Up Mouse is like Fredrick because they both have mice.