The Hunted
Written by Gloria Skurzynski
Reviewed by Emilia V. (age 9)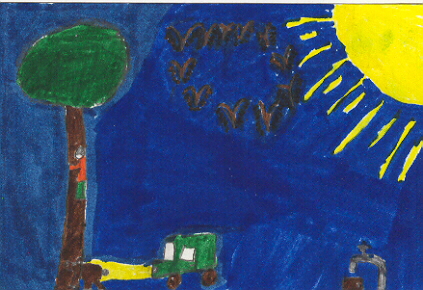 Jack Landon, a twelve year old, is going to go to Glacier Park. Olivia, Jack's mom, is a wildlife veterinarian. Oliva gets called to Glacier National Park to find out about the grizzly yearlings disappearances. The Landons have to dig deeper into the disappearances than they originally thought. In addition to the problems they are having with the grizzlies, Ashley, Jack's younger sister, is helping something or someone...
I liked this book because Ashley seemed like me. I love nature and animals, and I'm also a chatter-box around my family and friends. I think Jack was excited because there weren't any emergency foster kids to "mess up the trip," as there were in the other books in the National Parks Mystery series. It was also different than the other books in the series because Ashley gets secretive instead of the foster kids getting secretive.
This page-turning book is fantastic because it was filled with adventure and wonder. I would recommend this book to mystery munchers and people who like a little bit of learning in what they read. It has so many details that makes it very exciting! This book has a way of making you feel like you are in the story. It is a fabulous book and I really recommend it.