Out of the Dust
Written by Karen Hesse
Reviewed by Desanka B (age 10)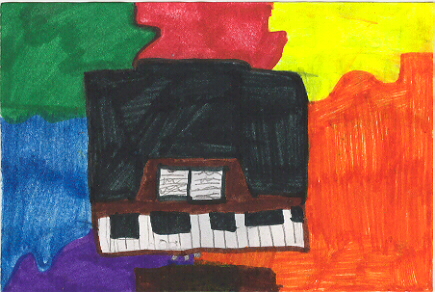 It was the winter of 1934, Billy Jo was born. This story is about a girl that is almost fourteen and wanted to get out of the dust. She is writing a diary about her extraordinary life. One day Billy Jo's dad put a pail of kerosene by the stove when her mother was making breakfast. Her mother thought that it was a pail of water. She used the pail of water, or so she thought, for Billy Jo's dad's coffee, but instead of making coffee she made a rope of fire. It came up from the stove to the pail and the kerosene burst into flames. Billy's mother ran across the kitchen and out onto the porch yelling for Billy Jo's dad. Billy tore after her mother then thinking of the burning pail left behind in the bone-dry kitchen, Billy flew back inside and grabbed it, throwing it outside. Billy didn't know that her mother was coming back. The flaming oil splashed onto her mothers apron. You can only imagine what happened. When Billy was grabbing the pail of kerosene she got terrible burns on her hands. It desperately hurt to play the piano. Billy also loved to play outside by the apple tree in their back yard. During the Dust Bowl, Billy Jo's dad is trying to grow corn, but it just gets blown away or rained on and washed away. Billy's dad always tells her that it will be ok, but it is never is. At school Billy has no friends except for her music friends. As she becomes more courageous throughout the book, she learns to find her true self.
The reason I liked Out of the Dust is because of the problems, the feelings, and emotional scenes. Also, I enjoyed how the main character explains her amazing life using great language. Sometimes I can compare her life to mine. For example she wants to get out of the dust because she has a busy life and sometimes I want to get out of my life because I have a busy life too. I absolutely loved this book. It was definitely one of my top five favorite books. There is not anything that I would change in this book. My favorite part is when Billy Jo plays the piano. The author describes the scene in such a great way that it makes you want to start playing the piano. My favorite character is Billy Jo because she is the main character and because she is strong and courageous. Something unique about the story is it takes place during the Dust Bowl and depicts their life style. When I was reading this book it made me wonder how they lived back then. I felt sad for Billy sometimes but in another way happy. This book is truly amazing. Ask yourself this, do you like olden day stories? If you do then this is definitely the book for you. Out of the Dust won a Newberry Medal award. One thing I have to say is that it takes you by the heart and lifts you away. This book is at a fourth and fifth grade reading level. Readers may find their own feelings swaying in beat with the heroine's shifting moods.
My recommendation for this book is for people who enjoy a nice but sad exciting story. I think that girls would like to read this book. There were no illustrations because the author uses good describing words. That is why I really enjoyed Out of the Dust! I hope you enjoy this book as much as I did.