Silverwing
Written by Kenneth Oppel
Reviewed by Daniel S. (age 9)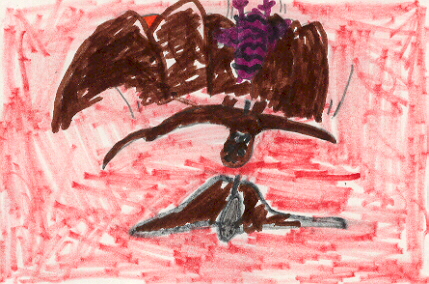 This book has a touch of action and adventure. Shade is a young silverwing bat, the runt of his colony. While he is migrating he gets lost in a storm! He finds a boat to wait out the storm. When he awakes he finds out that he is on an island! On the island he meets a banded brightwing bat named Mirina. She helps Shade get back to the main land. They then become best friends. On his way to find his colony he meets Zyphyr, a mystical albino bat, and Goth and Throbb, both vampire bats.
This is a very good book. My favorite part is when Mirina and Shade meet Goth and Throbb because during this part an owl is attacked. I like the action and adventure. I think that Shade is cool because he is like me. He is the runt of his colony and I'm the runt of my block. At the end of the story, Shade is no longer a runt because he grows. If you enjoy this book, there is a sequel to it called Sunwing.
I recommend this for people ages 9+. I think this book would be enjoyed by people who like action and adventure. The author uses cliffhangers to grab and hold the reader's attention. This would be a great book during a vacation because it is hard to put down. You won't want to be interrupted while you're reading.