Marvin Redpost: Alone In His Teacher's House
Written by Louis Sachar
Reviewed by James P. (age 9)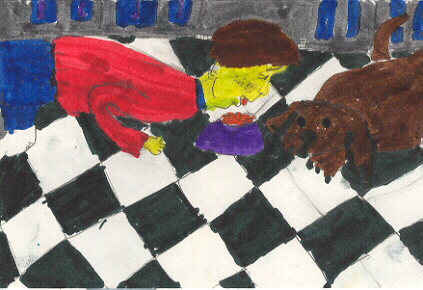 Marvin Redpost is an ordinary kid until he is asked to dog sit the teacher's pet. He gets $25.00 if everything goes well. But everything doesn't go as he thought. Marvin leaves the door to the house open, but just a crack. The next day after school he goes to the house and the door is wide open. Everything is in its place, but the dog. Where's Waldo? The dog's name is Waldo.
I think this is a good book. I think this is a unique book because it's what a kid would wish for. I mean what kid would not like to be in the teacher's house? I think Marvin changes in wiseness and responsibility. There are some illustrations in the book that are black and white. The pictures helped me see the characters and the setting. Marvin reminds me a little of a kid in my class named Ben because they are both tall, energetic, and always having fun.This book is part of a series. If you like this one, you may want to read other ones.
I recommend this book for kids under 4th grade. It is easy to read and is exciting and fun. The author writes about everyday life events like jealousy among kids. Most kids would be able to connect with this story. I hope you enjoy the book!!