Jaguar
Written by Roland Smith
Illustrated by Roland Smith
Reviewed by Mike P. (age 10)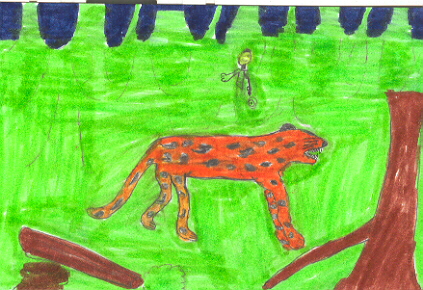 Someone or something is out to destroy an expedition in the wild Amazon. Jacob Lansa went with his father to Brazil to create a Jaguar preserve. Violence and a massive explosion demolished their boat. Jacob gets viciously attacked before their expedition begins. Jacob and his father came across a tribe of people that were rude and bizzare. The tribe spoke to each other in a different language that Jacob and his father could not understand. I can't tell you any more, but if you want to find out, you will need to read Jaguar.
Jaguar was one of the best books I read last year. I liked Jaguar because of the way the author wrote it. He uses lots of description and detail so the reader is able to visualize the story. Jacob reminds me of my friend Marcus because he also went on a trip to Brazil with his father where they saw a real wild jaguar in a cage. They took pictures of the jaguar. Marcus said the jaguar was going crazy in the cage trying to escape. This is similar to how the jaguar behaved in the book. This book is special to me because I thought it was an incredible book and jaguars are my favorite animal. I made a connection to the book because I could relate to the father and son relationship. Jaguars are fascinating creatures and that is why I read Jaguar.
I recommend this book to anyone who likes jaguars and adventure. The book Jaguar was an awesome book! I think if you read this book you would be amazed at the end. This book may be appropriate for some third graders. Fourth and fifth graders would definitely like this book. There is some violence in the book, so it may not be appropriate for younger kids.