The Rifle
Written by Gary Paulsen
Reviewed by Erik O. (age 9)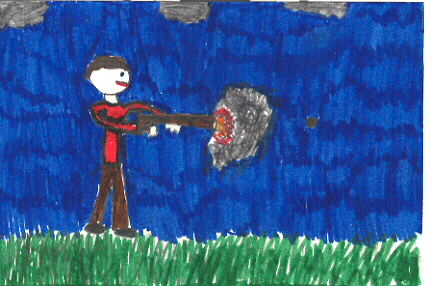 Would you make a living by making and selling guns? In 1768 a gunsmith named Cornish McManus made a rifle. The rifle had such good accuracy he knew he couldn't create another rifle like it. McManus decided to keep it, but when he starts thinking about getting married he decides he needs some money. So when John Byam, a young unsettled man, comes to get his gun tuned up, McManus sells Byam the rifle. After that, Byam rides off and joins up with the army. The history starts now. On almost every shot in battles Byam took down a soldier. He became a legendary sharpshooter in the American Revolution with the rifle's help. Later, Byam dies of dysentery. But that is not the last of the rifle. It is passed on to another owner, then another,and another. Read it yourself to find out who it gets passed on to, and what happens.
I liked this book because it had a lot of detail and description. My favorite part was when McManus found out that the rifle had such good accuracy. This is because he had worked on the rifle so long and so hard that it would have been a waste to find out that it didn't have good accuracy. This book is a lot like the other books I've read by Gary Paulsen because this book and the other books have all been about old times or the West. The character I liked the most was John Byam because he was a brave and nice man. While I was reading this book I thought that if the book never ended I could read it forever.
I recommend this book because it was very, very interesting. A good age group to read this book would be 1st graders and up. I also think that people that like books about old times, guns, and fighting would like this book. When I was reading this book and I would have to do something else I would get mad because I was so into it. The Rifle is my favorite book, so read it yourself to find out if it's your favorite book too.