Doll People
Written by Ann M Martin
Illustrated by Brian Selznick
Reviewed by Joanna O. (age 9)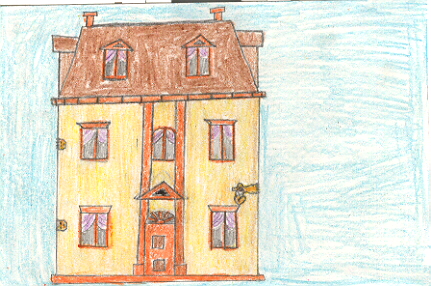 The Doll People is a fantastic story about Annabelle, a tiny china doll, who lives in a dollhouse owned by Kate Palmer. The adventure begins when Annabelle finds her aunt's journal in her bookshelf. Her Aunt, Aunty Sarah, had been lost for 45 years and Annabelle is determined to find her by clues from the journal. Soon she decides to leave her dollhouse in search of her aunt. On her adventure she meets another doll family who decides to help her find her missing family member.
This book reminded me of when I lay awake at night talking to my stuffed animals and pretending they're alive. My favorite part of this story is when Kate`s little sister, Nora, makes the dolls ride around the house on her plastic farm animals because it describes it in a funny way. Another part that I liked was when they had a party with the other doll family. The illustrations are great. They have a lot of detail in them. My favorite illustration is the one of Aunty Sarah in the spider web. This book makes you think because it is such a big mystery. This book is unique because not many authors write about dolls. My favorite character is Uncle Doll because he is the only one who believes Annabelle about the journal.
I recommend this book because it is very exciting and, if you like mysteries, you will really enjoy this story. I think girls would really like this book, especially if you like dolls. You won`t be able to put this book down!