Things Not Seen
Written by Andrew Clements
Reviewed by Elliot M. (age 10)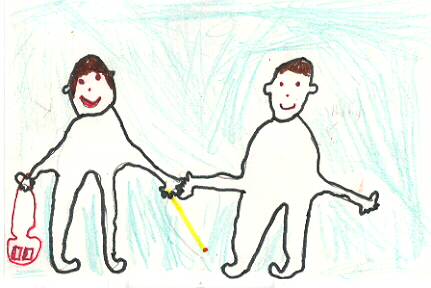 Things Not Seen is a great book about a high-school boy named Bobby who becomes invisible one day when he walks out of the shower. He tells his parents about his "condition". They say not to tell a soul, while they try to figure out how he can reappear. He then decides to go on an adventure to the library, in which he meets a blind girl named Alicia. They soon become friends, and she helps him pass the time. Soon, the high school that Bobby goes to starts to get suspicious. They come to search Bobby's house. Meanwhile, Bobby and Alicia think they figured out why Bobby is invisible. Will he ever become uninvisible? Read the book to find out!
I loved this book because it was exciting and funny. My favorite part was when Bobby explored the library when no else one could see him. "Things Not Seen" is a little like Andrew Clements' other book, "Frindle," because the main characters have goals that they try to reach. All the characters changed by the end of the book, because they learned a lot about invisibility. I thought the most interesting character was Alicia, becouse sometimes she would be really mad, and other times she would be cheerful and productive. I think this book was a inspiring, clever thriller.
I highly recommend this book to all 4-8 grade readers who like adventure and challenges, and especially those who like invisibility. There are many unique challenges that occur, which the author deeply develops through the story. I hope you read this wonderful book!