The Boggart
Written by Susan Cooper
Reviewed by Libby H. (age 10)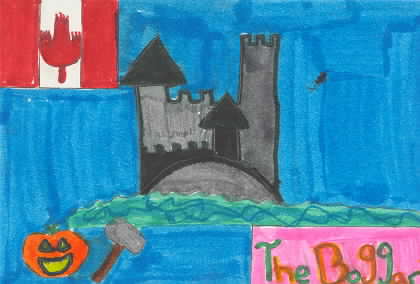 Have you ever been haunted by a very old magical creature? Probably not, at least if you live in 2003. The Boggart, a michievious, magical creature, lived in a very old castle in Scotland with an old man. In Canada the Volnik family is startled by a letter saying they inherited an old castle after the old man dies. The Boggart is terribly lonely when he has lost his loving friend. When The Volniks arrive in Scotland they each take something from the castle back to their house. Guess who is sleeping in a rolltop desk. The Boggart. Emily and her brother Jessup need to find a way to get the Boggart back to his home. As the story unfolds, the creature is introduced to a whole new world of exciting tastes and technology. After a few tricks, the sweet smell of the brisk flowing ocean calls out the Boggart's name. Willie, an actor from Scotland, knows the history of the creature, yet does not know how to get the Boggart back home. Nobody else knows about this old magic creature except Willie, Emily, and Jessup. Will the Boggart's only friends ever be able help this homesick spirit find his place with the rocky waves?
This book is filled with adventure and magic. The author used a great deal of description and exciting details. I like how the author would become the character with only words. The thing that makes this book interesting is that Susan Cooper mixed old magic with new reality. Her style makes this book unique and intresting. Many of the characters in this book remind me of my friends. For example the main character, the Boggart, reminds me of my best friend Adrienne, even though she can talk and is not invisible. My amicable friend can be very funny and at the same time be sly and tricky. She always believes in her backround but is also open to new ideas.
I would recommend this book to people who would not be embarassed by reading a magical book with exiting bursts of tricks and suprises. In The Boggart you can never tell what will happen next. The action builds up step by step, and then when you least expect it, something unbelivible explodes into a million pieces, and you are left staring into a new chapter.