The Phantom Tollbooth
Written by Norton Juster
Reviewed by student in Mrs. Biery's 4th Grade Class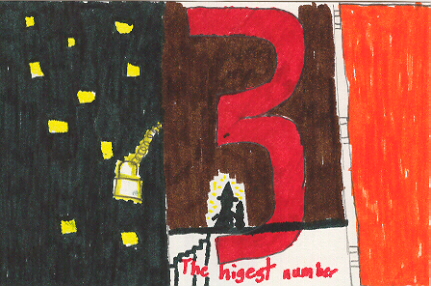 Have you ever dreamed of an adventure? Milo has done more than just dream. The Phantom Tollbooth is about a boy who finds the meaning of life. Milo, the main character, who doesn't have a clue how hard it is in the real world, ends up in a place you would never imagine. But I can't give away anymore. My lips are sealed and locked. This would be the book for YOU!
This book is adventurous and exciting. I get hooked every time I read it. There are parts that aren't so good, but the whole book is good in all ways. I loved it and I think you will love it, too. Parts I liked were when Milo was in Dictionopolis, the doldrums, and his final destination that I can't tell. The illustrations were so detailed and descriptive it made me feel like I was really in the story. This book is like no book I've ever read. After every chapter I read, it left me hanging. That made me read more! It was so good I bought my own copy!
I think all ages could read this book. I recommend this book because it's adventurous, exciting, and humorous. What interested me most about the book was that when I read it, I was hooked. There is just something about the book that makes me read it a lot. I hope you enjoy it.