Frindle
Written by Andrew Clements
Illustrated by Brian Selznick
Reviewed by Shane F. (age 10)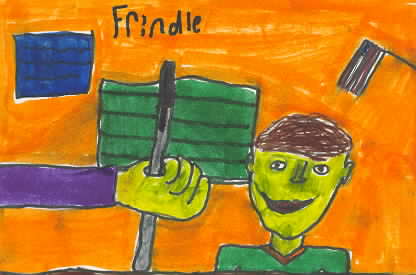 Once Nick Allen gets an idea to liven things up, he always follows through. That's what happens in Frindle, and this idea was his biggest. It started because Nick is famous for asking questions at the end of the day so that the teacher won't have time to give the class homework. But in the fifth grade year Nick has an English teacher that sees right through him. One day he asked, "Who says dog means dog?" The quick answer of the teacher, which was,"You do, Nickolas," gave Nick the idea that made him famous throughout his little town. That idea was this: he and some other friends start saying frindle instead of pen. His English teacher doesn't like it and wants this word to stop, but can Nick stop it?
I liked this book because something like this could actually happen and it was exciting. My favorite part of the book is when the teacher makes the kids stay after school if they use the word frindle. The kids think of it as a privilege so they use it just so that they can stay after school. This was my favorite part because it is humorous. The character that changed, after the word had settled down, was Nick. He didn't do any of his ideas and he didn't act like himself at all until he talked to his teacher. After that, he was back to his old self but didn't do anything like the frindle idea again.
I recommend this book because it has a good story and it will make you want to read more. This book is suitable for all audiences. Something that might interest the reader is that in this book, the boy, Nick thinks that anything is possible.