Bunnicula
Written by Deborah and James Howe
Illustrated by Alan Danieil
Reviewed by Reese G (age 10)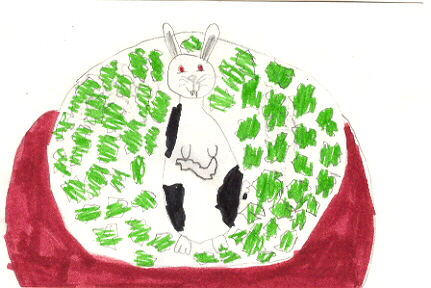 Bunnicula is a story about a bunny with unusual habits. Harold, the dog, and Chester, the cat, must find out the truth about the newest pet in the Monroe household. In the morning Chester and Harold would go into the kitchen and find all white vegetables. They thought the juice of the vegetables got sucked out by Bunnicula, who they thought was a veggie vampire. At first the dog and cat are afraid of Bunnicula, but that soon changes.
I like this book because it has lots of adventure. My favorite part in the book is when Chester the cat thinks that Bunnicula the bunny is a vampire. Now I won't tell you what these habits of this unusual bunny are, but if you want to find out you can read the book. My friend Lauren is like Chester because she is the brains of our friendship. I'm the not so smart one and don't get all of her jokes like Harold. My friend Madeline is like Bunnicula because she is very quiet and doesn't hang out with the popular kids. As I read this book I was anxious to find out what was going to happen next. The animals in this book talk to each other. Bunnicula changed in this story. At the beginning he looked like he was evil and mean, but at the end he turned out to be really nice and shy.
I recommend this book to anyone who likes mysteries and adventure. I think people who like animals should also read this book.