Going for Great
Written by Clyde Bulla
Reviewed by Sarah A. (age 10)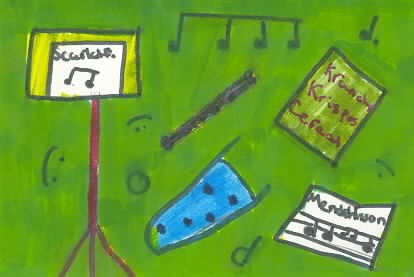 Jenna Dowling enters a competition in which she is to play Kahlua on the flute. Heather Bardlow is a flute player and likes Jenna, even though Jenna has never liked Heather. Heather asks her if they could practice together and she accepts. Through this Jenna becomes friends with Heather. Jenna's best friend Caitlin is jealous and afraid of Jenna becoming friends with Heather. So Caitlin gets revenge by becoming best friends with Michelle, her gymnastics buddy. Caitlin knows one of Heather's dark secrets and is afraid that Jenna could get hurt. Throughout this book Jenna faces her fears of getting up on stage, she is struggling to do the right thing, she is trying to find true friendship.
I liked this book because it is very touching and it inspires you to do your best if you have a hobby or talent. This book is different in many ways because it really focuses on doing well at whatever you do. My favorite part was when Heather is becoming friends with Jenna and when Heather is helping Jenna feel better about stage fright. These are my favorite parts because that is when the book starts to develop, when you can really start to get into it and understand it. I found Heather interesting because nobody would be her friend when she had so much intelligence and kindness to offer. Jenna changes her feelings about Heather through this book.
I loved this book because it really made me want to see if Jenna would sort her problems out right. I would recommend this book to all people who like quick and inspiring stories.