A Wind in the Door
Written by Madeline L'Engle
Reviewed by Kara T. (age 10)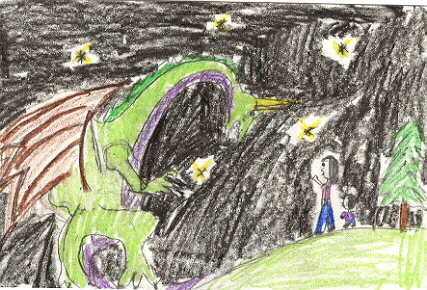 In the book, "The Wind In The Door", Meg Murry, a character made up by Madeleine L'Engle, may seem like a worrywart, but she has a lot on her mind. Her little brother, Charles Wallace, is looking sick, panting after taking a short walk and coughing uncontrollably. On top of this, something strange is happening with the universe. Odd "rips", Madeleine calls them, are occuring, and they are not at all good. One night, Meg and Charles Wallace take a walk and stumble upon a creature, Proginoskes, that looks like a flock of dragons, and a teacher, Blajeny. They have come to help Charles Wallace. As Meg absorbs all thia, Calvin, her best friend and neighbor, comes to investigate the noise, and ends up joining them on a journey. Blajeny pairs the group into partners to help save Charles Wallace's life-Meg and Proginoskes together and Calvin and Sporos, a small creature introduced later in the book. Meg and Proginoskes have the hardest job-to complete three tests. The first one is to find out if Mr. Jenkins, her principal, is real. The second is to convince Sporos that he needs to become part of Charles Wallace, which is two tests in itself.
In my opinion, I am like Meg, adventurous and always willing to take on a challenge. She will easily defeat anything in her way. My favorite part in this book is when Madeleine describes Proginoskes. She uses description that I never heard before. The adjectives and verbs she chooses, and the way she paints pictures with words, make the description so amazing. But if I would have had a picture of Proginoskes, I think it would have weakened the description. I am glad that Madeleine did not put pictures in this book because it is fun to imagine all the places Meg goes, and the people she meets.
I recommend this book to readers from third grade to college. People who have a good imagination would like this book. I hope you read it and have as much fun as I did.