The Reptile Room
Written by Lemony Snicket
Illustrated by Brett Helquist
Reviewed by Cal M. (age 9)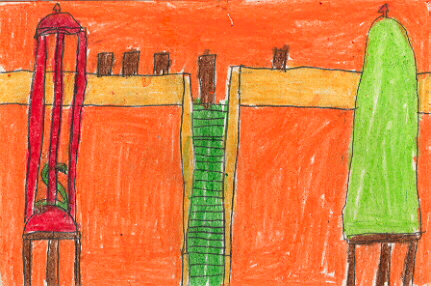 Have you ever lived with your uncle, and thrown caution to the wind? That's what the unlucky Baudelaires, Klaus, Violet, and Sunny, did until Count Olaf came back to their lives. In this book,the Baudelaires encountered a sharp knife, a large brass reading lamp, a misleading name, and a deadly snake's venom. In this book Count Olaf disguised himself as a man named Stephano who comes to help the Baudilaire's Uncle Monty who was a scientist who studied reptiles in his reptile room. In the reptile room there were snakes that looked odd. In the end, Count Olaf got away with murder. To find out who got murdered, read "The Reptile room."
My favorite part is when the Baudelaires foil Count Olaf's plan.This is my favorite part because Count Olaf blabs with his big mouth about his identity. This book is part of a series called, "A Series of Unfortunate Events". It is unlike any other book, or series because Count Olaf is after the Baudelaire fortune. I think this book is really good. It is the best book ever. I like this book because it is interesting and sad. It is interesting because Uncle Monty has a lot of weird reptiles that have lots of eyes and mouths. It's sad because someone dies.
I recommend this book because it is a thriller. I recommend this book to young readers who like to read, invent, or bite hard objects.(If you want to find out what I'm talking about, read this book) This book is like spaghetti; it twists and turns.