Because of Winn-Dixie
Written by Kate DiCamillo
Reviewed by Elizabeth L. (age 10)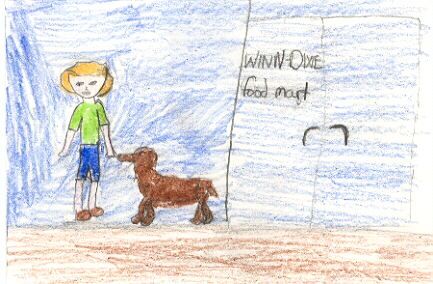 Have you ever moved or suddenly felt as if you were far away from where you belonged? In "Because of Winn-Dixie" by Kate DiCamillo, Opal feels this way. She just moved from Watley, Florida to Naomi Florida, and feels that nobody wants to be her friend. Then one day, this all changes when she is sent to the store to get a box of macaroni-and-cheese, some rice,and two tomatoes. Instead of these items, Opal comes home with a new friend. His name is Winn Dixie and he is a dog. Throughout the story, Opal's friend helps her make more and more friends. As Opal gets to know her friends better, she discovers that deep down inside, they are sad for something, too. At one point, Opal's friends are having a get-to-know each other party, when they notice that Winn-Dixie is missing. Will Opal find Winn-Dixie or is he gone for good?
I enjoyed reading this book because it is very realistic. Although it is a fictional story, it is one very many people could relate to because of its wonderful detail and realistic happenings. My favorite part of the story is when, because of Winn Dixie, Opal finally has the courage to ask her father about her mother, who had left them when Opal was young. Winn-Dixie helps Opal get through this hard time in her life and really helps her gather her courage. Another example is when two boys tell Opal that Winn-Dixie has hopped into a witch's yard. Opal really cares about Winn-Dixie and follows him into the yard, but when Opal comes into the yard she sees an old woman feeding WInn-Dixie a peanut butter sandwich. At this point, Opal has found a new friend and all thanks to Winn-Dixie. Another thing Winn-Dixie does for Opal isn't so great. He is just plain terrified of thunder storms. Because of this Opal has to hold on to him in thunder storms so he won't run away but nevertheless Opal still likes him and is very glad she has him to help her get through this hard time in her life.
I recommend this book to anyone who loves dogs and enjoys a sort of different and heart warming story. I recommend this book to you because it is a wonderful tale that you will read over and over and remember for ages.