Because of Winn-Dixie
Written by Kate DiCamillo
Reviewed by Sarah H. (age 10)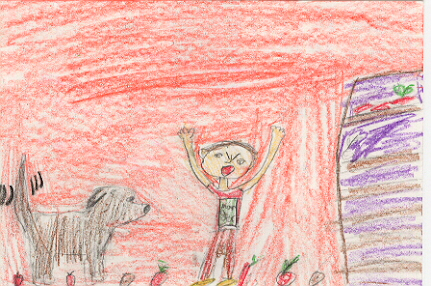 In "Because of Winn-Dixie", a book by Kate DiCamillo,Opal meets a dog she names Winn Dixie. This dog becomes her best friend and also introduces her to three different people. The first person is Ms.Franny Block, a librarian, with lots of stories to tell. Winn-Dixie introduces Opal to Ms.Franny by jumping up onto her library window. The second person is Gloria Dump. She has a lot of kind words and nice elements about her. Winn-Dixie brings Opal and Gloria together by running into Gloria's back yard and eating her lunch. The last person Opal meets is Otis who manages a pet store. Because Opal wants to buy Winn-Dixie a collar but dosen't have the money, she decides to work at his store. One of the times that Opal walks in the store she finds Otis playing his guitar to all the animals. Opal discovers that Otis can really play the guitar well, but he doesn't have the nerve to in public. To find out how Opal helps Otis get over his fear, read the book.
My opinion of this book is that it is a good book to read. I like this book because it is unique. You don't usually read about a person and a dog being best friends. My favorite character in this book is Opal because she is willing to do things that many people are not such as being committed to friendships. When I read this book it made me feel happy because of all the good friendships in it. This book is not a series but Kate DiCamillo has written other books.
I would recommend this book because it is uplifting. People who like animals would enjoy reading this. It would interest these people the most because it has many different animals in it. Winn-Dixie is not the kind of dog you would come across every day. It is interesting to read how he acts differently from other pet dogs.