The Long Patrol
Written by Brian Jaques
Illustrated by Allan Curless
Reviewed by Nathan S. (age 10)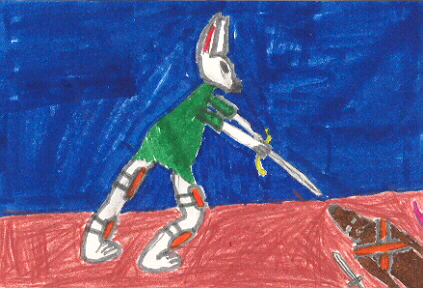 Have you ever wanted to be part of an army? Well young Tammo has and he wants to join the Long Patrol NOW!! Accompanied by Russa Nodrey, the wandering squirrel, and equipped with his mother's dirk (a small dagger), they set off to find the Long Patrol at Redwall Abbey. The Long Patrol is a unit of perilous fighting hares that every young hare dreams of joining. But soon the Long Patrol finds out that the murderous Rapscallion Army is coming to take over the peaceful Redwall Abbey! So the Long Patrol, accompanied by Tammo, is called to draw them off for one of the biggest Redwall battles ever!
I liked this book a lot because of the action and the courage from Tammo. I think this book is unique because Brian Jacques makes everything so descriptive. I think that my favorite character was Tammo because he made the story much more interesting. If Tammo wasn't in the story it would have been pretty boring.
I would recommend this book because it is packed with action and suspense. I think people who like action, adventure, and a bit of fantasy would enjoy this book a lot.