Dogsong
Written by Gary Paulsen
Reviewed by Ellie S (age 10)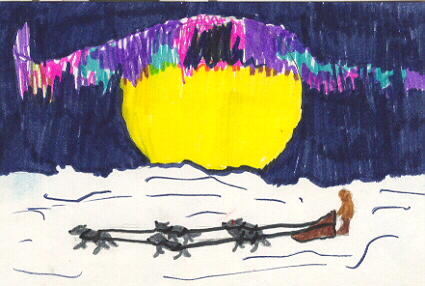 Have you ever wished that you could live before the time of electricity, guns, and snow machines? Young Eskimo Russel Susskit did; he hated the smell of diesel oil and the sound of snow machines starting up. He longed to live like the ancient Eskimos long ago, so he went to the old medicine man, Oogruk, for help. Oogruk tells Russel of the old days, when men traveled only by dogsled, and sang songs of the inner soul of the Eskimo people. But Oogruk can't give Russel the answers he seeks. He can only prepare him for what he must do alone. So the young Eskimo sets off into the unknown land of gaping tundra, with only Oogruk's dogs and a hunting harpoon to keep him alive. Driven by a strange and powerful dream of his long ago self, and the burning urge to find his own song, Russel takes an adventure that will change his life forever.
I like this book because when I read it, I felt that my nose was glued onto the pages, it was so exciting. In some parts, I felt I wanted to cry, and at others I felt as if I was in the book, riding a sled pulled by wolf-dogs into the unexplored land of the Arctic, just like Russel. It makes me feel adventurous because I love husky dogs and the wild. I love the cold and the ice, Nature, and living off the land. Russel reminds me of myself because both he and I wish motor-powered things were never created, and the Old Days never became old. Dogsong is unique because it seems to be made not of paper and print, but woven out of snow, cold and all the sparkling colors of the Northern Lights, along with Russel and his faithful dogs.
I would recommend this book to people of all ages who love exciting books. I would recommend it because it is exciting and realistic, magically real. I think readers would like the part where a polar bear attacks Russel, and he has only his dogs, a harpoon, and the ways of the Eskimo to protect himself. This book is one of the best I have ever read, and I'm sure you will like it too.